The Fall season brings with it a delightful array of colors and textures, and it's the perfect time to update your beauty routine. As the leaves change their hues, it's time to embrace the Fall beauty trends that will enhance your natural beauty and keep you looking stylish throughout the season. In this guide, we'll explore the latest makeup looks, hair trends, skincare tips, and nail art ideas that will help you achieve a flawless Fall look. Let's dive in and discover the beauty trends that will make you stand out from the crowd.
Fall Beauty Trends: Transforming Your Look for the Season
Fall beauty trends are all about embracing the rich colors and warm tones that are synonymous with the season. Whether you prefer a natural and subtle look or want to go bold and dramatic, there's a Fall trend that suits every style. Let's explore some of the top Fall beauty trends that are taking the beauty world by storm this season.
Bold Lips: Make a Statement
This Fall, make your lips the focal point of your makeup look. Bold lips in shades of deep red, burgundy, and berry are making a statement on the runways and red carpets. A richly pigmented lipstick can instantly elevate your look and add a touch of glamour to any outfit. Opt for matte or satin finishes for a sophisticated touch.
Warm Smoky Eyes: Sultry and Seductive
Smoky eyes are a classic makeup look, and this Fall, warm tones take center stage. Instead of the traditional cool grays and blacks, opt for warm browns, burnt oranges, and copper shades. These earthy hues create a sultry and seductive look that is perfect for the Fall season. Pair your smoky eyes with a nude lip for a balanced and elegant finish.
Glowing Skin: Radiate from Within
Glowing and radiant skin is always in style, and Fall is no exception. Achieve a lit-from-within glow by incorporating hydrating skincare products into your routine. Look for moisturizers and serums that contain hyaluronic acid and antioxidants to keep your skin plump and protected. Enhance your natural radiance with a dewy foundation or illuminating primer for a youthful and fresh look.
Natural Brows: Embrace Your Natural Shape
Gone are the days of heavily drawn-on brows. This Fall, it's all about embracing your natural brow shape and enhancing it subtly. Use a brow gel or pencil to fill in any sparse areas and add definitions. Brush your brows upward for a feathery and natural look that frames your face beautifully. Remember, the key is to enhance, not overpower, your brows.
Copper Accents: Nail the Manicure
When it comes to nail trends this Fall, copper accents are stealing the spotlight. Whether you opt for a full copper manicure or incorporate copper details like nail art or foil accents, this warm and metallic shade adds a touch of elegance to your nails. Pair it with neutral shades or deep burgundy for a polished Fall look.
Sweater Weather Hair: Cozy and Chic
Fall is the perfect time to embrace cozy and chic hairstyles that complement the season's fashion. Opt for soft waves or loose curls for a relaxed and effortless look. Add a touch of texture with a sea salt spray or volumizing mousse for that "just rolled out of bed" appeal. Top off your hairstyle with a stylish hat or a cozy beanie for the ultimate Fall vibe.
Matte Skin: Flawless Finish
If dewy skin isn't your preference, Fall also brings in the trend of matte skin. Achieve a flawless finish by using a matte foundation or powder to create a velvety-smooth complexion. Set your makeup with a translucent powder to control shine and keep your look intact throughout the day. Opt for a matte lip color to complement your matte skin for a modern and sophisticated look.
Berry Blush: Rosy Cheeks
Rosy cheeks are a must-have Fall beauty trend. Swap your bronzer for a berry-toned blush that mimics the natural flush of cool weather. Apply the blush to the apples of your cheeks and blend it out for a healthy and youthful glow. The berry blush adds a touch of warmth to your complexion and enhances your overall Fall look.
Metallic Eyes: Shimmer and Shine
Add some sparkle to your Fall makeup looks with metallic eyes. Experiment with eyeshadows in shades of gold, bronze, and silver for a dazzling effect. Apply the metallic eyeshadow to the center of your lids or use it as an accent in the inner corners of your eyes to make them pop. Pair your metallic eyes with a nude or neutral lip for a balanced and glamorous finish.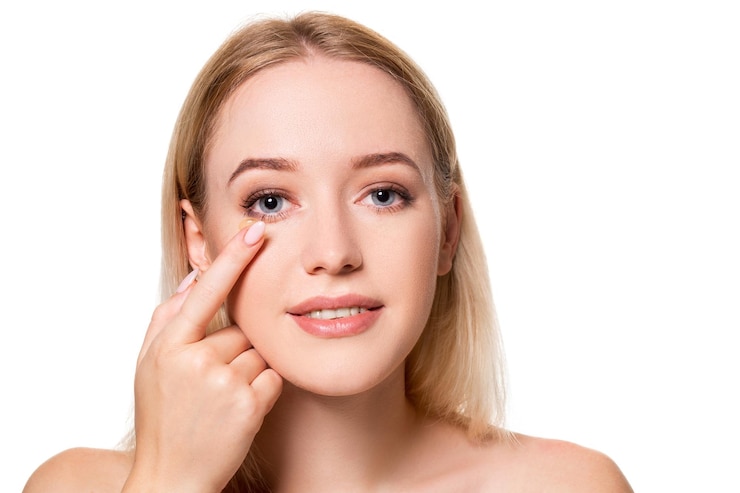 Dark Lip Liner: Defined Pout
Achieve a perfectly defined pout with the trend of dark lip liner. Outline your lips with a lip liner in a shade slightly darker than your lipstick for added depth and dimension. Fill in your lips with the matching lipstick shade for a seamless and polished look. This technique gives your lips a fuller appearance and ensures your lip color stays put throughout the day.
Glossy Eyelids: Wet and Wild
For an edgy and high-fashion look, glossy eyelids are making a comeback this Fall. Apply a clear or slightly tinted gloss over your eyeshadow to create a wet and reflective effect. This trend adds a modern twist to your eye makeup and gives a fresh and dewy finish to your overall look.
Statement Nails: Artistic and Expressive
Make a statement with your nails this Fall by opting for bold and artistic designs. Experiment with geometric patterns, abstract art, or negative space manicures. Use rich jewel tones, deep blues, and emerald greens to capture the essence of the season. These statement nails will grab attention and add an extra element of creativity to your Fall beauty look.
Velvet Lips: Luxurious and Plush
Velvet lips are a Fall beauty trend that exudes luxury and opulence. Choose a velvety matte liquid lipstick in shades like deep plum, wine red, or dark chocolate for a rich and decadent look. The soft and plush texture of velvet lips adds a touch of sophistication and glamour to any Fall outfit.
Read More about Seasonal Beauty Trends.
Conclusion
With the arrival of Fall, it's time to embrace the beauty trends that define the season. From bold lips and warm smoky eyes to cozy hairstyles and metallic nail art, there are endless possibilities to enhance your beauty and stay on-trend. Experiment with different looks, find inspiration in the colors and textures of Fall and let your unique style shine through.
Whether you prefer a natural and subtle look or want to go bold and dramatic, these Fall beauty trends will help you create a stunning and fashionable appearance. Embrace the season with style and glamour, and enjoy the beauty of Fall!
FAQs
How can I make my makeup last longer during the Fall season?
To make your makeup last longer during Fall, start with a hydrating primer to create a smooth canvas. Use a long-wearing foundation and set it with a translucent powder. Opt for waterproof and smudge-proof eyeliners and mascaras. Finally, spritz a setting spray over your finished makeup to lock it in place throughout the day.
Can I wear bright lipstick colors during Fall?
Absolutely! While Fall is often associated with deeper and darker shades, you can still rock bright lipstick colors. Opt for bright reds, oranges, or fuchsia tones to add a pop of color to your Fall look. Just make sure to choose a long-wearing formula and pair it with neutral eye makeup to create a balanced and vibrant look.
How can I achieve a natural-looking glow during Fall?
To achieve a natural-looking glow during Fall, focus on skincare. Keep your skin well-hydrated by using a moisturizer and drinking plenty of water. Incorporate a hydrating serum or facial oil into your routine. Use a lightweight, dewy foundation or tinted moisturizer for a luminous finish. Finally, add a touch of cream highlighter to the high points of your face for a subtle and natural glow.
Can I wear metallic eyeshadow during the day?
Yes, you can wear metallic eyeshadow during the day. To create a more subtle look, choose neutral or softer metallic shades like champagne, bronze, or rose gold. Apply the metallic eyeshadow sparingly and blend it out for a more diffused effect. Pair it with a natural lip color and minimal face makeup for a daytime-appropriate look.
How can I protect my skin from the harsh weather in Fall?
To protect your skin from the harsh weather in Fall, moisturize regularly with a hydrating moisturizer. Apply sunscreen with at least SPF 30, as even though the weather is cooler, harmful UV rays can still affect your skin. Use a lip balm with SPF to protect your lips from drying out. Additionally, cover up with a scarf or hat to shield your face from cold winds.